Pender Adult Services, Inc.
Pender Adult Services, Inc. is a Non-Profit Organization Serving Pender County, North Carolina. We are committed to providing our community a safe, stable environment in which individuals can maintain their independence, good health practices, and a healthy sense of self-esteem.
Pender Adult Services offers a broad range of group and individual activities and services that respond to the needs and interests of older adults, families and caregivers in our communities. Programming includes activities, classes, services and information assistance to promote healthy and fulfilling lives. We offer two convenient locations: Heritage Place in Burgaw, NC, and Topsail Senior Center in Hampstead, NC.
PAS Coronavirus Update Announcement: View Announcement 3/31/2020 (pdf) | View Announcement 4/01/2020 (pdf)
Our clients are generally those included in the most vulnerable population. The following changes are to ensure the safety of all, regardless of age or current health status. Check back for updates, as changes will be reviewed as information and conditions change.
As of March 30, 2020 procedures are expected to be followed for at least the next 15 days, but likely longer. We will re-evaluate as information is received.
HERITAGE PLACE | TOPSAIL SENIOR CENTER
NOTICE: Social Distancing Implemention
Pender Adult Services will suspend all activities at our senior centers effective March 19, 2020.
We are Closed to the Public

We are doing business
(services) by phone.
259-9119 ext 0 - - - - - - Front Desk - Reserve a Meal

259-9119 ext 1 - - - - - - Transportation (PASTRAN)

259-9119 ext 303 - - - - Jennifer

259-9119 ext 309 - - - - Jane

259-9119 ext 329 - - - - Barbara

PAS TRAN is currently providing Medical Transportation ONLY
RSVP is doing call care if you need information, please contact Barbara at (910) 259-9119 X 329
On Each Tuesday until further notice:

Home Delivered Meals clients and VAN RIDER Congregate clients will receive 1 hot and 1 cold home delivered meal along with shelf meals for the week.

PAS TRAN will be delivering to VAN RIDER Congregate clients RSVP Volunteers will deliver for Home Delivery Meals clients.
PLEASE CALL if MEAL delivery is NOT NEEDED, otherwise it will be delivered between 11 - 1.
NORMAL BUSINESS HOURS:
Mon. - Thur: 8:00 AM - 5:00 PM
Fri: 8:00 AM - 3:00 PM

Effective: Until further notice. (see below)
a drive-thru meal will be available 11:30 am - 12 noon

The senior must call the Monday prior by 10:00 am
to receive a meal. Call (910) 259-9119, Press 0 to speak to a receptionist. (Call in to order by 10 am on Monday's!) Consumer contributions are appreciated!
Tues. & Wed. Take Out & Delivery Special (4/7 & 4/8)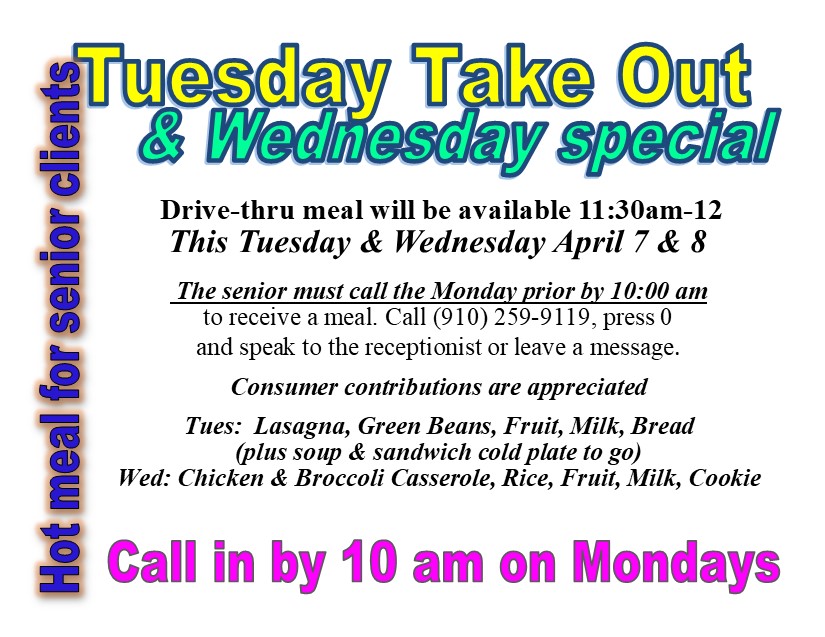 Remember to Call in on Monday by 10am!
Call (910) 259-9119, Press 0 to speak to a receptionist
News from the The IRS & Treasury Department
The IRS and Treasury Department announced on April 1, 2020 that Social Security beneficiaries who are not typically required to file tax returns will not need to file an abbreviated tax return to receive an Economic Impact Payment. Instead, payments will be automatically be issued and received by mail or direct deposit according to the method they receive their Social Security benefit.. Check out the link to their press release below (https://home.treasury.gov/news/press-releases/sm967).

Caring for Someone with Dementia? Check this Out!
Visit Dementia Alliance of North Carolina offering comfort, assistance, resources and education. They have several online virtual support groups beginning in April, and a new YouTube channel "Managing Life with Dementia During COVID19. Plus their phone numbers are open (M-F) for caregivers to access their Demential Navigator Program. Call: (800) 228-8738
SCAM WATCH Caronavirus (COVID19)
Protect your Medicare Number and only provide it to your medical care providers. Be cautious of anyone going door-to-door offering free coronavirus testing supplies and treatment. Don't fall for scare tactics or time sensitive offers. Contact SMP to report Medicare Fraud or Abuse at Senior Medicare Patrol or Call: (877) 808-2468

Like us on FACEBOOK!
Facebook.com/Pender Adult Services
We are all fortunate to live in a time where our life expectancy is increasing. People arriving at what was once called "retirement" are still active, healthy, and anxious to participate in community activities.
Our Commitment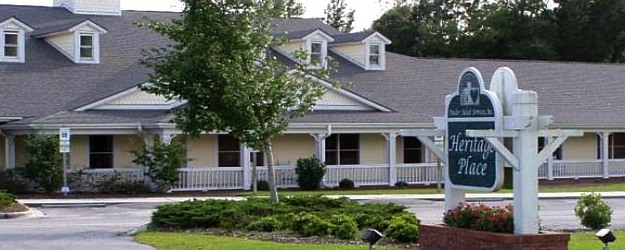 Our core objective at Pender Adult Services is to insure that our community's mature adults are able to live a life that is not just longer, but also one that remains rich in satisfaction, stimulation and socialization.
Pender Adult Services is an agency designed to provide specific solutions for each special client. We make available not only basic life support services, but also services that increase life's pleasure and sense of well-being.
Helping Adults Lead Independent and Active Lives
Life is too Precious not to Share it. Spending time with friends is an important part of living a full life. Our Senior Centers in Burgaw, and Hampstead provide activities for socialization as well as convenient physical locations for serving our clients. These centers provide opportunities for recreation, physical fitness, meetings and just conversation.

Location:

Heritage Place

901 So. Walker Street
Burgaw, NC 28425

(910) 259-9119

Location:

Topsail Senior Center

20959 Highway 17
Hampstead, NC 28443

(910) 270-0708
PAS-TRAN
Convenient transportation ensures that our clients are always able to travel to their appointments. Typical requests are for transportation to medical offices, pharmacies, stores, service agencies, as well as to our own senior centers.
Topsail Senior Center
2020 Silent Auction
Thursday, April 30th
Donations are currently being accepted and Sponsorships are available.
Call (910) 279-0708 . . . for more info.
Save the Date!
PAS Rx Assistance
Do you have income, and still can't afford your medications. Do you have insurance, can't afford your deductable or co-pay? Are you a U.S. resident, without Medicaid that covers out-patient medications?
Questions?. . . Give us a call.
(910) 259-9119 ext. 5

Top



Pender Adult Services, Inc.

901 So. Walker Street / P. O. Box 1251
Burgaw, North Carolina 28425
Phone: (910) 259-9119
http://www.penderpas.com