Pender Adult Services, Inc.
Pender Adult Services, Inc. is a Non-Profit Organization Serving Pender County, North Carolina. We are committed to providing our community a safe, stable environment in which individuals can maintain their independence, good health practices, and a healthy sense of self-esteem.
Pender Adult Services offers a broad range of group and individual activities and services that respond to the needs and interests of older adults, families and caregivers in our communities. Programming includes activities, classes, services and information assistance to promote healthy and fulfilling lives. We offer two convenient locations: Heritage Place in Burgaw, NC, and Topsail Senior Center in Hampstead, NC.
PAS Coronavirus Update Announcement: View Announcement 10/05/2020 (pdf)
Our clients are generally those included in the most vulnerable population. The following changes are to ensure the safety of all, regardless of age or current health status. We are working within Reopening protocols with smaller groups to be as safe as possible. Check back for updates, as changes will be reviewed as information and conditions change. We will re-evaluate as information is received. The "safer at home" guidelines still apply for anyone in the "high risk" category.
Please Note: Masks required for entry, events/classes by registration only, social distancing practiced. In person appointments require a mask.
All outdoor classes are "weather permitting" - Please call the center for class size and attendance availability.
Call for a reservation/appointment at Heritage Place (910) 259-9119 or at Topsail Senior Center (910) 270-0708.
October Events at the Heritage Place Pavilion:
RSVP is required for attending events at the Pavilion. Space is limited and the 3 W's will be practiced: Wear, Wait, Wash
Thursday, October 22th 10:30 AM Unresolved String Band | Tuesday, October 27th 10:30 AM Outdoor Fall Fun
---
Outdoor Flu Shot Clinics by PC Health Department:
Bring your Medicare Card or Insurance Card
Wednesday, October 14th 9:00 AM - 11:00 AM Heritage Place Portico (Drive Thru)
Tuesday, October 20th 9:45 AM - 12 NOON Topsail Senior Center (Tent)
---
Line Dancing is Coming Back at Heritage Place:
When?
Outside at Heritage Place on Mondays at 6:00 pm (mask required)
---
GERI-FIT Outdoors at Topsail Senior Center:
Tuesday at 9:00 am, Thursdays at 10:00 am

Advance Tai Chi Outdoors at Topsail Senior Center:
Thursday at 9:00 am

Beginner's Tai Chi coming soon at Topsail Senior Center:
Tuesday at 2:00 pm
Cost for Tai Chi is $10.00, Call Topsail Senior Center for registration (910) 270-0708
---
Fitness Fusion: Group Fitness Classes at Heritage Place Pavilion
All classes are by reservation only! Please call the gym to reserve your spot. Learn more . . .
Call: Fitness Fusion (910) 259-0422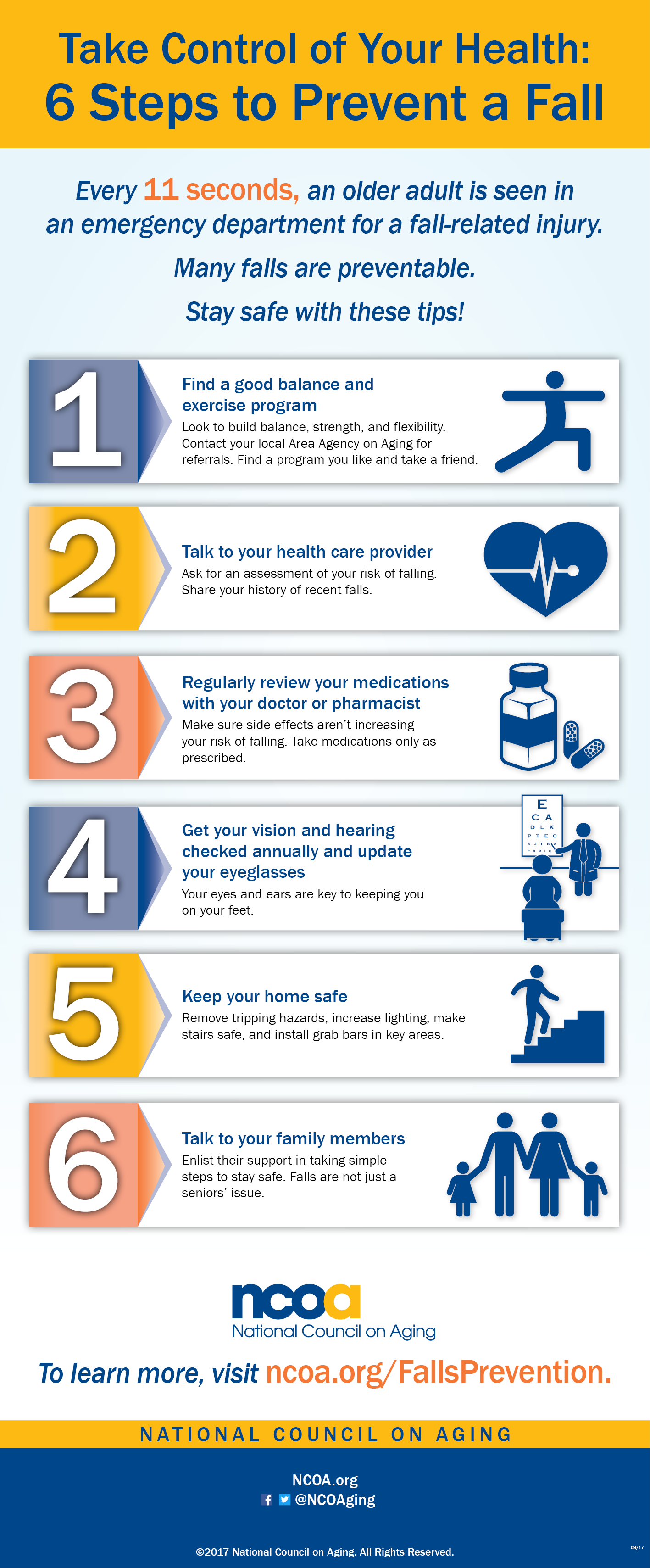 The National Council on Aging
Take Control of
Your Health
6 Steps to Prevent a Fall
Many Falls are Preventable
To Learn More About
ncoa Falls Prevention Program
Visit:
http://www.ncoa.org/healthy-aging/falls-prevention
Click Link Below:
To Learn More About
National Council on Aging
Go Here:
HERITAGE PLACE | TOPSAIL SENIOR CENTER
NOTICE: Social Distancing Implemention
Pender Adult Services has restarted activities at our senior centers.
We have adjusted our current activities and grouping.
We are working within Reopening protocols with smaller groups to be as safe as possible.
Adjustments will continue when social distancing guidelines are updated or changed.
We are Closed to the Public

We are doing business
(services) by phone.
259-9119 ext 0 - - - - - - Front Desk - Reserve a Meal

259-9119 ext 1 - - - - - - Transportation (PASTRAN)

259-9119 ext 303 - - - - Jennifer

259-9119 ext 309 - - - - Jane

259-9119 ext 329 - - - - Barbara

PAS TRAN is currently providing Medical Transportation ONLY
RSVP is doing call care if you need information, please contact Barbara at (910) 259-9119 X 329
Until further notice:

Home Delivered Meals clients and VAN RIDER Congregate clients meals Monday - Thursday.

PAS TRAN will be delivering to VAN RIDER Congregate clients RSVP Volunteers will deliver for Home Delivery Meals clients.
PLEASE CALL if MEAL delivery is NOT NEEDED, otherwise it will be delivered. When you are at home, come to the door so the driver knows you are at home. Food will not be left, if you're not at home.
Do you have questions about MEDICARE
or are you turning 65 soon?

Open Enrollment for Medicare Part D
is October 15 - December 7

PAS has trained SHIIP counselors available to assist you by phone appointment. Call Heritage Place: (910) 259-9119 X 301. Leave your name and phone number and a trained counselor will call you to set up a phone consultation.

Call Topsail Senior Center: (910) 270-0708. Monday - Thursday 8:00 am - 4:00 pm to schedule an appointment. Other resources are available Online:
NC SHIIP Office
Medicare and seniors health insurance information.

MEDICARE - SHIIP NC SHIIP

State Health Plan (Pre 65)
Information for State Employees Planning to Retire within the next two years.

State EmployeesSHP(Pre 65)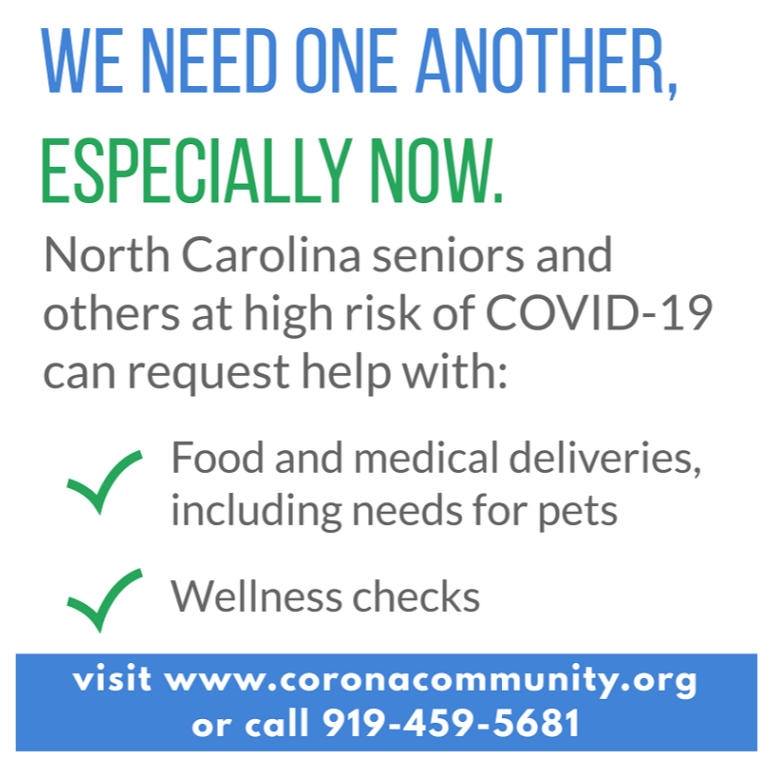 NORMAL BUSINESS HOURS:
Mon. - Thur: 8:00 AM - 5:00 PM
Fri: 8:00 AM - 3:00 PM

Like us on FACEBOOK!
Facebook.com/Pender Adult Services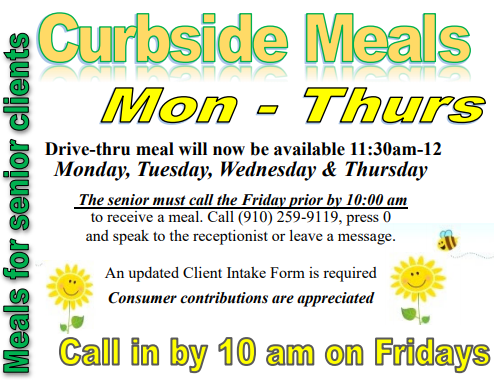 Call: (910) 259-9119
Press 0 to speak to a receptionist

---
Caring for Someone with Dementia? Check this Out!
Visit Dementia Alliance of North Carolina offering comfort, assistance, resources and education. They have several online virtual support groups beginning in April, and a new YouTube channel Managing Life with Dementia During COVID19. Plus, their phone numbers are open (M-F) for caregivers to access their Demential Navigator Program. Call: (800) 228-8738

---
Protect Yourself From Coronavirus Scams
NC Attorney General Josh Stein recently published a Coronavirus Scam Guide. Learn the best and safest way to detect and report Covid19 Scams in North Carolina.
We are all fortunate to live in a time where our life expectancy is increasing. People arriving at what was once called "retirement" are still active, healthy, and anxious to participate in community activities.
Our Commitment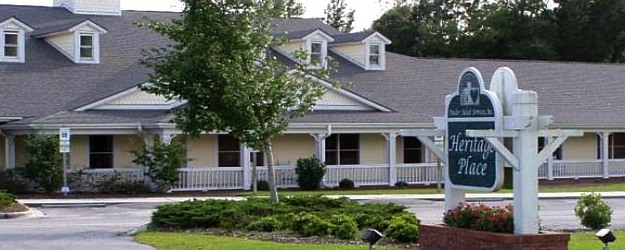 Our core objective at Pender Adult Services is to insure that our community's mature adults are able to live a life that is not just longer, but also one that remains rich in satisfaction, stimulation and socialization.
Pender Adult Services is an agency designed to provide specific solutions for each special client. We make available not only basic life support services, but also services that increase life's pleasure and sense of well-being.
Helping Adults Lead Independent and Active Lives
Life is too Precious not to Share it. Spending time with friends is an important part of living a full life. Our Senior Centers in Burgaw, and Hampstead provide activities for socialization as well as convenient physical locations for serving our clients. These centers provide opportunities for recreation, physical fitness, meetings and just conversation.

Location:

Heritage Place

901 So. Walker Street
Burgaw, NC 28425

(910) 259-9119

Location:

Topsail Senior Center

20959 Highway 17
Hampstead, NC 28443

(910) 270-0708
PAS-TRAN
Convenient transportation ensures that our clients are always able to travel to their appointments. Typical requests are for transportation to medical offices, pharmacies, stores, service agencies, as well as to our own senior centers.
Open Enrollment
for Medicare Part D
October 15 - December 7
Do you need to review your prescription drug plan? Call and make an appointment. Our trained counselors are qualified to assist.
Call HP (910) 259-9119 ext. 0
Call TSC (910) 270-0708 (M-F 8 am-4 pm)
PAS Rx Assistance
Do you have income, and still can't afford your medications. Do you have insurance, can't afford your deductable or co-pay? Are you a U.S. resident, without Medicaid that covers out-patient medications?
Questions?. . . Give us a call.
(910) 259-9119 ext. 318

Top



Pender Adult Services, Inc.

901 So. Walker Street / P. O. Box 1251
Burgaw, North Carolina 28425
Phone: (910) 259-9119
http://www.penderpas.com