Pender Adult Services, Inc.

PAS - Travel Club
A Connection to Adventure
PAS - Travel Club is committed to providing travel that enriches the lives of seniors. Generally two bus trips are planned each year, one in the spring and one in the fall. A group cruise has been booked every other year. All trips will be filled on a first come first served basis on the date the trip/tour opens for registration.

Registration forms will not be accepted prior to the trip registration date.

Deposit required at time of registration.

If you wish to purchase Travel Protection, it should be paid at the time of the initial deposit to ensure full protection.

Be sure to read the PAS Travel Policies before submitting the Registration Form.
Pender Adult Services, Inc. is committed to providing safe and healthy travel opportunities for older adults. However, we recognize the possibility of accidents and/or emergency medical situations that may arise.

Please refer to the PAS Travel Club Medical Information Form.
---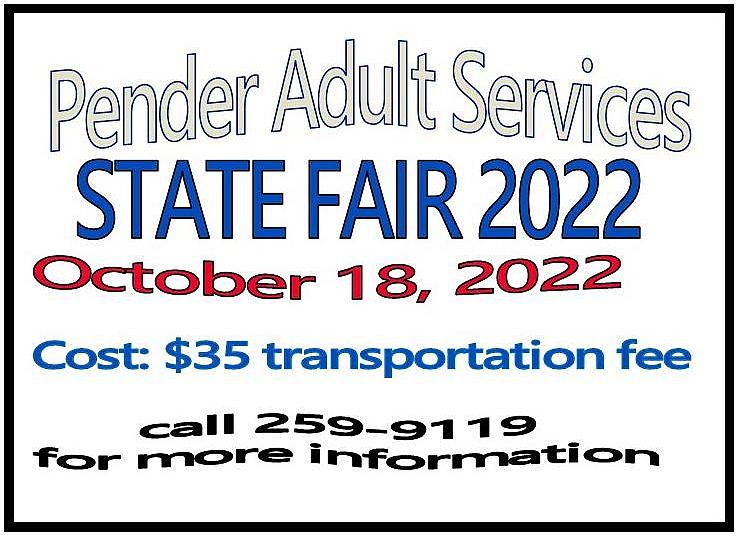 NC State Fair Trip
October 18, 2022
Are you interested in going?
Cost: $35 per person.
Let Jennifer know if you are interested.
Call 910-259-9119 ext.303
Holiday Festival of Lights in Historic Charleston, SC
Registration Opens on August 3rd, 2022. Deposit of $150 will be due at time of registration.
Depart: Wednesday, December 14th, 2022
Return: Friday, December 16th, 2022
Price/pp/Double: $450 per person Double Occupancy
Price/pp/Single: $560 per person Single Occupancy
Deposit: $150.00/per person Refundable Deposit Due for Registration, Checks only for deposit, and must include phone number and address.
Travel Protection: $51.00 per person Double and Single Occupancy.
If you wish to purchase Travel Protection/Insurance, please send a separate check made payable to PML Travel & Tours. Travel Protection should be purchased at the time of your initial deposit to ensure full benefits. Insurance Premiums (Travel Protection/$51.00) are non-refundable. Fuel surcharges by all transportation companies may be assessed.

Included:

3 Day / 2 Night Trip Includes:

2 Nights Hotel Accomodations with 2 Complimentary Breakfasts

1 Holiday Dinner Cruise aboard: The Spirit of Carolina

1 Dinner at The Charleston Crab House on Beautiful James Island

James Island Holiday Holiday Festival of Lights

Guided Tour of Historic Charleston Decorated for the Holidays

Tea, Tour and Trolley at the Charlestonn Tea Plantation

Holiday Shopping at Charleston's Historic City Market

Standard Taxes, Meal Gratuities & Baggage Handling

Deluxe Motor Coach transportation Included
Visit Heritage Place to Pick up the Flyer with more details.
= = = PLEASE NOTE = = =
Covid Vaccine Required (Carry your card)
OR Negative Covid test (2 days before travel)
Masks Optional for bus - required for some attractions.
= = = For Information and Reservations = = =
Contact: Jennifer Mathews, Programs and Activities Coordinator
Phone: (910) 259-9119 ext. #303

Top



Pender Adult Services, Inc.

901 So. Walker Street / P. O. Box 1251
Burgaw, North Carolina 28425
Phone: (910) 259-9119
http://www.penderpas.com